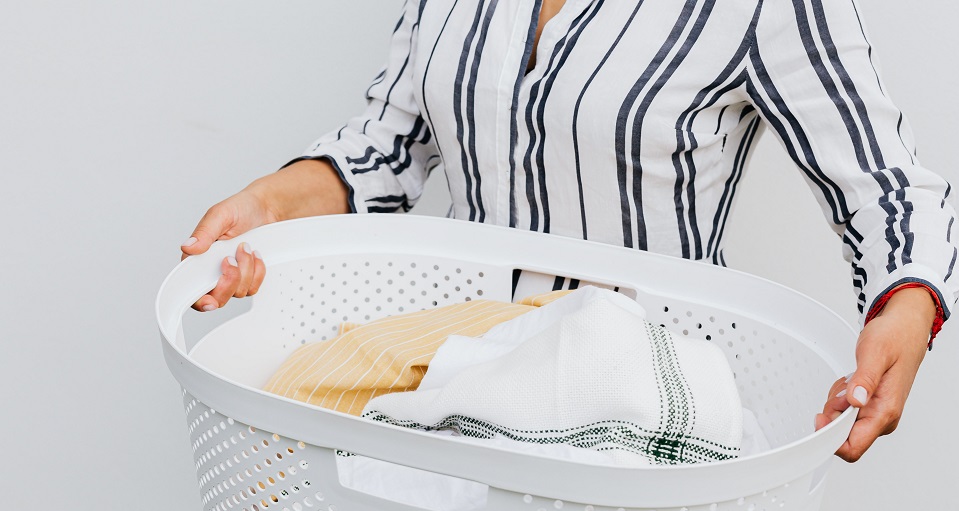 Part of the sign-up process includes letting us know which are your preferences when it comes to detergent, softener and starch. You'll be able to change these preferences at all times in the app, but this is the first approach at changing your default preferences.
Later on you will be able to select one-time options: for example, if on one specific instance you'd like to use starch or hypoallergenic detergent, this is possible both through the app or by informing our customer care team of the one-time changes within your order.
Please keep in mind that we are unfortunately not able to accommodate to you sending in your own detergent, softener and/or other cleaning products.
Detergent
There are two options you'll get to choose from: either our scented detergent or our hypoallergenic option, which is the safest bet for those of our customers who might have issues with allergies or simply prefer a more neutral treatment of their clothes.
If you have specific questions about the type of detergents we use based on your previous preferences, you can always ask our Customer Care team and we will be happy to answer all of your questions!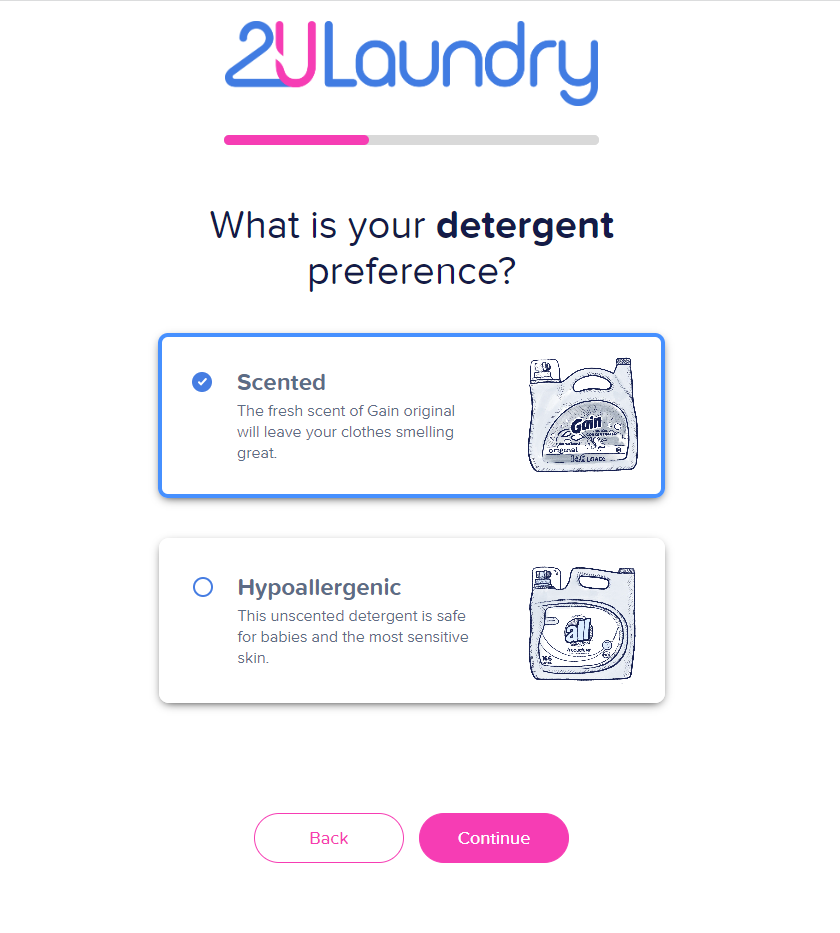 We offer two options for detergent: scented or hypoallergenic.
Fabric softener
Softener is an effective way to keep the fabrics of your clothes soft and wrinkle-free. It also helps reduce friction between fibers, which creates less static cling and helps product your clothes from wear and tear, making them last longer than if you were to go without. Not to mention, it's an easy way to add a splash of fragrance to your laundry.
Whether you want us to use fabric softener on your clothes is completely up to you, and you can let us know from your sign-up process by selecting your preferences. Don't worry about changing your mind later on, you'll be able to adjust your preferences at any time!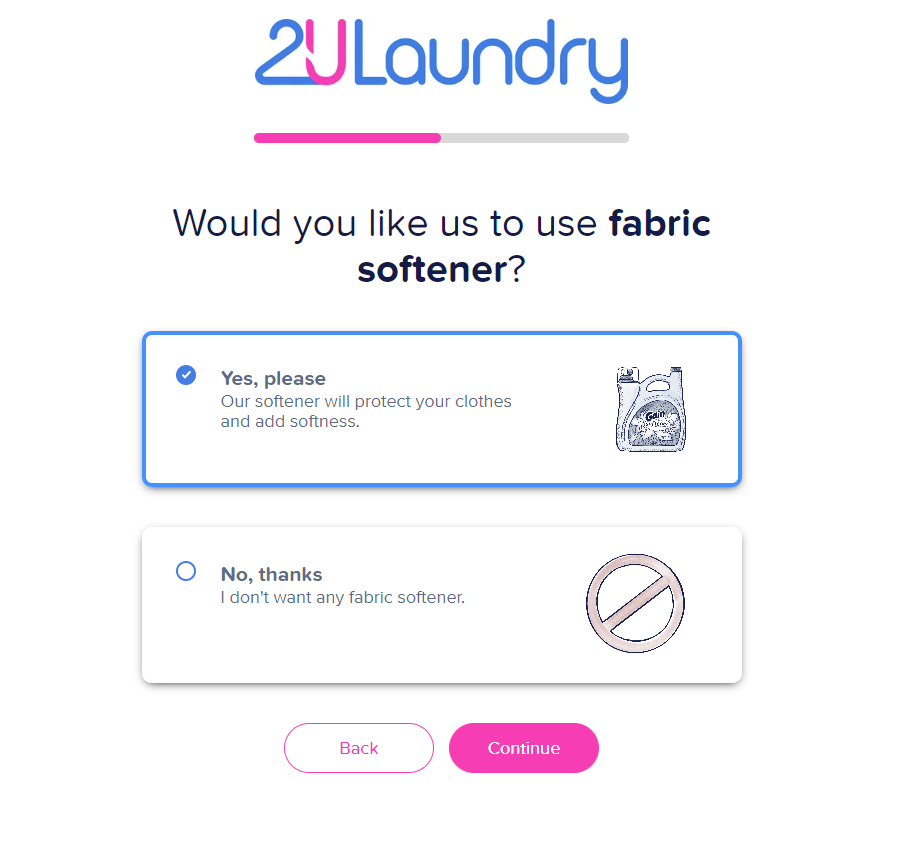 We offer two options: either using softener on your laundry or not using it at all.



Starch
We offer two options: either using starch on your laundry or not using it at all.
A question we often get is regarding what starch is at all, and why it could be used in your service! Starch is useful for giving a garment body and shape, especially for all-cotton or linen garments. It creates a stiffness in the fabrics that makes it easier to iron and harder to wrinkle. For example: regular starching can help a shirt hold its fresh-pressed shape longer.
However, starch is not for everyone! It can make clothes stiff and uncomfortable, and that is why we leave the choice to you.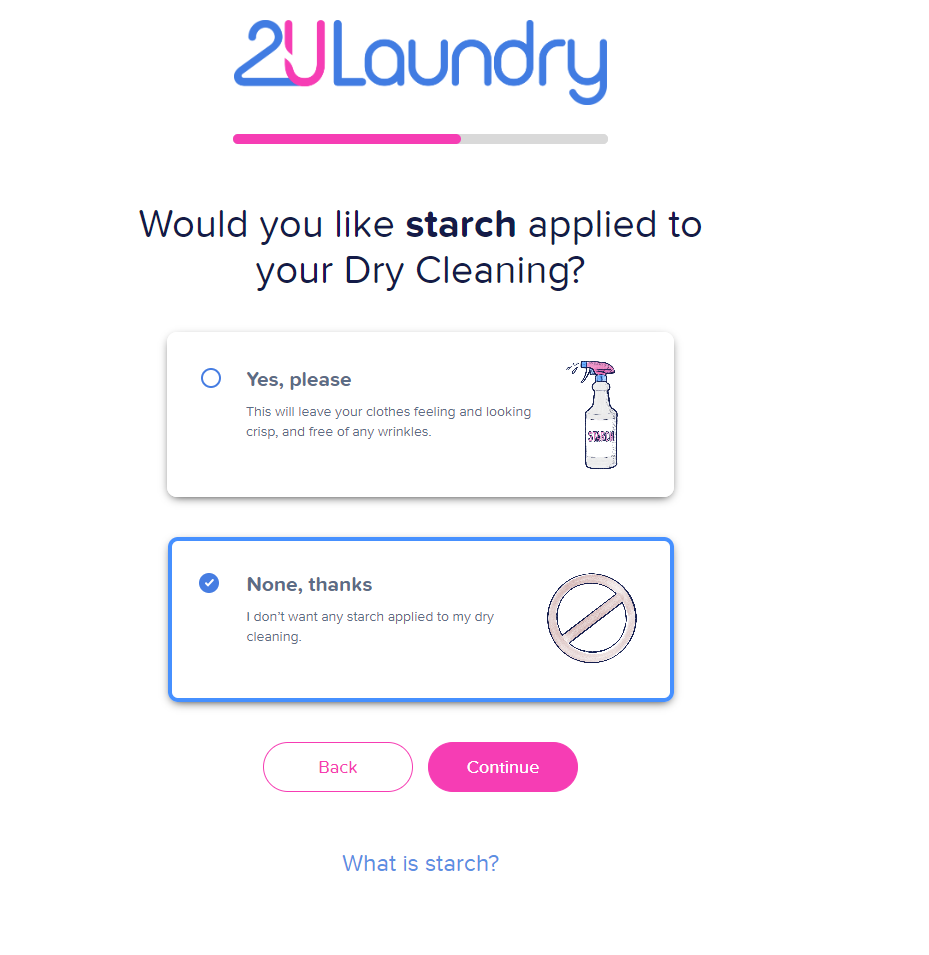 The final slide allows you to select starch opens