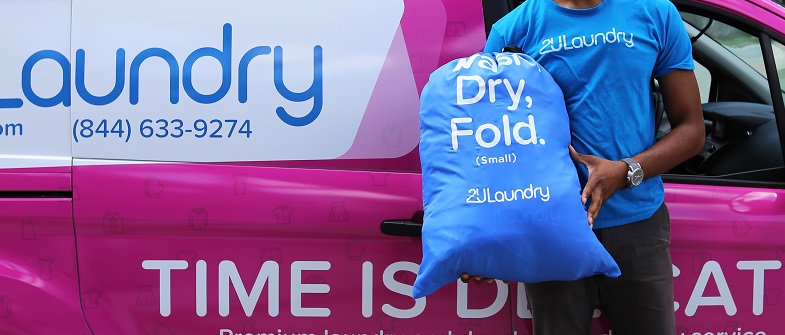 Unfortunately, our systems do not allow you to live track the van that will deliver your laundry bag. We do, however, have an alert system that will notify you when the driver is close to the location where your order is scheduled to be delivered as well as when the bag has been delivered in your door, driveway or hallway.
Driver is 2 stops away: when your driver is 2 stops away, as long as push notifications are enabled for the app you will be informed about it and be able to see an ETA ("Estimated Time of Arrival") in the order tracker.

Successful drop-off: if the pickup was successful, you will receive either an SMS or a notification in our app informing you about it (you will only receive the SMS if your notifications for the app are disabled). If you received the SMS, you will also be given an option to schedule a new pickup through that channel.
Failed drop-off: if the drop-off was not successful, you will receive either an SMS or a notification through our app. Please note that at this point you might have received a phone call from our Customer Care team if the driver was attempting to deliver your bag but was unable due to a specific reason, and we will reach out to you with more information.
Due to the way in which we structure our routes, we are unable to provide with an estimated ETA for your delivery until the driver is two stops away, and we are also not able to abide to custom requests regarding delivery times. However, you do not need to be home at the time of the delivery, and you can provide us with specific pickup instructions, such as your gate code and/or callbox code so that our drivers can enter your house without having to ring the doorbell and don't have to leave the bag in your doorway or at a place where you believe it might be unnecessarily exposed.